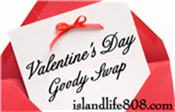 Kailani over at
An Island Life
organized a Valentine's Day Gift Swap! I signed up a couple weeks ago, and today she emailed me with my swap partner, Naomi of
superdumb supervillain
.
I love swaps - I did one back in 1994 or 1995 with a woman from New Zealand. It was organized on rec.food.cooking and the idea was to trade foodie things from your local area. I know I sent her a copy of
San Francisco a la Carte
, created by the San Francisco Junior League and chock-a-block with interesting recipes. I know she sent me a cool pen with a train that went back and forth at the top, a jar of New Zealand Honey (incidentally, I saw the same jar at a fancy schmancy food place in Berkeley not too long ago) and an Edmonds Cookery Book, which I now notice she inscribed - To Gudrun, Have fun cooking, Heather from Plimmerton, NZ! Cool.
To help Naomi with this swap, I am supposed to answer these questions:
What is your idea of a romantic Valentine's Day?

My husband coming up with his own romantic idea, without me having to "suggest" anything

In reality, what is your Valentine's Day really like?

Kids to school, me to work, plans for fun ways to celebrate the day with the family, special dinner that I take time to cook and is eaten in 5 minutes, shower night, books, teeth brushing, and then a little reading for me before bed.


If you could have a lifetime supply of your favorite sweet indulgence, what would it be?

Ritter Sport Dark Chocolate a la Mousse au Chocolat. Or any of the German or French cookies that have one side coated in chocolate, dark please. Or really any dark chocolate, I prefer 62% or 80+%.


Is there any sweet treat you absolutely do not like?

Dinner mints, white chocolate anything, licorice, fruit filled chocolates.


If you fell into a pool of chocolate, how would you get out?

Why would I want to get out?

Feel free, if you are one of the two people reading this, to consider yourself tagged. I would love to hear what my friends think is romantic for Valentine's Day.....